CHIMNEY AND FIREPLACE MEINTENANCE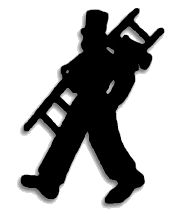 WARNING: Chimney Repair and Fireplace Cleaning Scams are on the Rise!
Scammers usually offer a special on chimney cleaning or fireplace repair for a low price. They often claim that your chimney liner is damaged and needs to be replaced. Remember, there is no need to reline an already lined chimney unless your lining is in really bad condition. Avoid businesses that solicit door-to-door, pressure you to make immediate decisions, or offer exceptionally good deals and long-term guarantees. Rely on your intuition. If you sense something, walk away and look for another company.

Remember: A chimney, if not properly maintained, can be very dangerous !
Chimneys and fireplaces should be inspected at least once a year and cleaned when necessary. If you use your fireplace or appliance on a regular basis, we strongly recommend cleaning of the chimney flue at least once a year during your annual chimney inspection.
A common problem is usually creosote, a chemical substance formed from burning wood which builds up inside the chimney. It is potential a fire hazard and the primary fuel in most chimney fires. A chimney fire can create deadly gases, and if it gets hot enough, the fire can spread. Even without a fire, creosote and soot reduce the draft and diminish the efficiency of the heating system. Chimney Pro's technicians are well trained to discover any potential problems. Upon request we can perform video-camera scanning of your chimney.

Call or e-mail us today with your questions: (212) 249-0026
---
The only true fire safety is prevention!

Not only wood burning fireplaces or stoves but also chimney flues for gas and oil burning appliances should be checked on an annual basis for any soot deposits or debris blockage, which could lead to dangerous carbon monoxide poisoning. If the chimney is unable to vent properly, carbon monoxide may be leaking into your home. A chimney specialist should clean the inside of your chimney to eliminate these dangers.
Annual chimney cleaning services should include:
Specialist Chimney Cleaning

Vacuuming Firebox and Smoke Shelf (area behind the damper)

Visual Firebox Inspection

Free Draft Test of Your Fireplace or Appliance


---
Five Important Reasons to Remove Chimney Deposits:
To make sure that appliance vents properly to the outdoors
To remove blockages that could cause carbon monoxide gases to enter the home
To prevent chimney fires
To reduce chimney odors
To prevent deterioration of the chimney interior

Remember: The only SAFE chimney is a clean chimney!
---
We're a proud member of the National Fire Protection Association [NFPA]
y pro fireplace repair restoration building clean