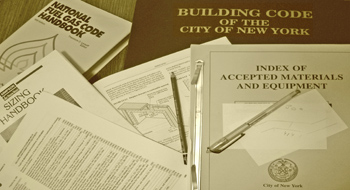 NEW YORK CITY CODE SPECIALISTS & CONSULTANTS
Building codes are developed by well - intentioned people who are actively involved in the construction industry. Their purpose is to provide minimum standards for the protection of life, limb, property, and environment and for the safety and welfare of the consumer, the general public, and the owners and occupants of residential buildings regulated by this code. Building codes are constantly changing and they vary by state, county, city, town, or even borough. The New York City Local Building Code is probably the most complicated and strict code in the US.
Important Update: As of July 01, 2008, the New NYC Construction Codes are in effect.
---
For example, the New York City Building Code requires that certain materials and equipment, like prefabricated chimneys and fireplaces, chimney liners and even dampers be accepted by the Department of Buildings. Manufacturers are required to have their products tested against nationally recognized standards by Department-accepted testing laboratories. Accepted products are given MEA Numbers in Department-issued Reports. MEA Numbers are recorded in the MEA Index.
MEA review includes checking specific model numbers listed in all required documents, evaluating the test reports and determining any terms or conditions for product use in New York City. The project owner is responsible to ensure that all equipment installed in a building that is required to be accepted by MEA is indeed accepted and properly labeled. If a building owner uses a piece of equipment or material that requires an MEA number but does not have one, he or she is subject to a violation.
We always urge our customers to follow the strict New York City codes. Remember, even the smallest mistake can cost you.
We have seen and rebuilt many badly constructed and unsafe chimneys and fireplaces around the New York City area. Those chimneys and fireplaces were often built by incompetent chimney contractors. Where it comes to Building Code, many of chimney contractors have little knowledge about NYC laws and regulations. We strongly urge homeowners, architects and general contractors to challenge the knowledge of your chosen chimney and fireplace expert.
We understand the New NYC Construction Codes and work as consultants for many engineers, architects, decorators and homeowners inside and outside NYC. Our code experts have been successfully advising many American and Canadian chimney manufacturers and distributors.

Important: All chimneys, fireplaces and liners installed in New York City must be installed in accordance with the New NYC Construction Codes.
---
We're a proud member of the National Fire Protection Association [NFPA]
Contact us today with a violation or problem. Chimney Pro-Code Specialists are ready to answer your questions

Call or email us to make an appointment: (212) 249-0026