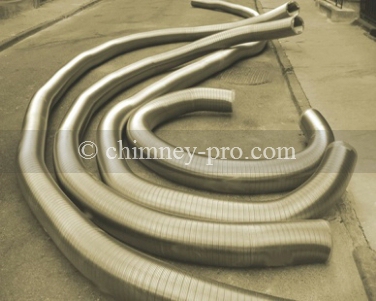 CHIMNEYS RELINED & REPAIRED


Remember: Chimneys should be inspected every year for defects. Check for blockages: loose or fallen bricks, broken flue lining, animal nests, debris and soot accumulation. Chimney cleaning should be performed periodically. The National Fire Protection Code 211 requires an annual safety inspection of all chimney systems.
Call Us Today: (212) 249-0026
If you use your fireplace or appliance on regular basis, we strongly recommend cleaning of the chimney flue at least once a year during annual chimney inspection. We are well trained and qualified to inspect or clean your chimney and to asses any potential problems. If necessary, or requested by the homeowner, architect or engineer, we can perform video-camera scanning of your chimney.


---

Chimney Liners and Relining
Chimneys that were built without flue liners according to NFPA 211 Code: Standard for Chimneys, Fireplaces, Vents, and Solid Fuel-Burning Appliances and local New York City Code must be lined for safety's sake. Fitting a chimney with a properly chosen liner is most important. Chimneys often need to be resized to perform properly. Installing a lightweight, properly sized, UL Listed metal chimney liner will help create safe, efficient and condensate free venting. Stainless steel corrugated and rigid liners are perfect for use when relining masonry flues venting oil, gas, coal and wood burning appliances. They should be installed in accordance with their listing and the NYC Building Code.
Important: All factory made chimneys and liners installed in NYC must be approved by the MEA Division and be installed in accordance with the Building Code for Listed Factory Built Chimneys and Liners.
---
A relining system will restore and revitalize your chimney. This will ad to the safety of your house and family, and it will increase value of your property.
The common relining materials are:
• Stainless Steel - Flexible Corrugated or Rigid Liners
• Fire Clay Flue Liners
We recommend High Quality stainless steel relining pipes that are UL Listed and approved by the New York City Building Department.
Our skilled technicians work with chimney relining systems that are flexible and fit almost every chimney configuration.We can custom ovalize round stainless steel metal liners to almost any form and shape. They are high-quality products made from best quality stainless alloy, utilizing a continuous-weld and spiral corrugation technique, designed for use with fireplaces, woodstoves, furnaces, boilers, stoves, water heaters, or other appliances fueled by wood, oil, coal or gas.
Most of the best brands carry a lifetime warranty which provides lifetime coverage for wood burning, gas and oil appliances.

Typical limited warranties give you :
• Protection From Chimney Fires
• Protection From Corrosion
• Standards For Inspection
---
CHIMNEY REPAIR SERVICES PROVIDE THE FOLLOWING :
• Tuck-Point
• Flue Pipes Replacement
• Chimney Crown Replacement or Repair
• Parging of Smoke Chambers
• Chimney Relining for:
Wood Burning Appliances
Gas Appliances
Oil Burning Appliances
Woodstoves and Surface
WATERPROOFING - Waterproofing is the best preventive maintenance you can give the exterior of your chimney against premature aging and expensive repairs. We use special chimney water repellent to protect your chimney from water damage.
MASONRY RESTORATION- We recommend Restore-It® Exterior Masonry Cleaner to remove black smoke stains and soot from your exterior masonry chimney. Restore-It® Masonry Cleaner removes rust, creosote, mold, mildew and a variety of common stains from brick, concrete, clay tiles, stucco and natural stone and most masonry surfaces.
---
Remember: Chimney Defects Result in Home Fires !
We're a proud member of the National Fire Protection Association [NFPA]
Call or email us today to make an appointment: (212) 249-0026