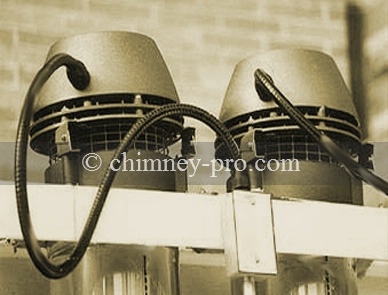 DRAFT INDUCERS, CHIMNEY & FIREPLACE FANS

It can be a bit of a challenge to make some fireplaces work! The purpose of a chimney is to take combustion products (gases and smoke) from the appliance to the atmosphere outside your home, and at the same time, to draw air for combustion into the appliance. This movement of combustion air and exhaust is called a "draft". Have you ever had a draft problem you couldn't cure with traditional methods? With the electric top chimney fan you no longer have to live with these problems. Now we can solve them!
Call us today to talk to our Draft Expert: (212) 249-0026

---
An electric chimney fan or draft inducer is a mechanical device that is used to create a draft where natural draft does not occur, or where natural draft is insufficient. We recommend the Enervex (formerly Exhausto) Chimney Fan, a high quality chimney mounted ventilator that is designed to provide large flue gas volume capacities. This fan is designed to prevent draft problems to occur by creating a mechanical draft in venting systems. It can be installed on any type chimney system. It can be used with: wood or gas burning fireplaces, fireplace inserts, stoves, ovens, BBQ's, water heaters, furnaces, boilers and more.
The Enervex Fan is made from cast aluminum and stainless steel. It comes with a 10-year warranty against corrosion and a 2-year factory warranty against defects in material and workmanship. It is designed for minimum energy consumption, and practically maintenance free.
It is tested and listed to UL Standard 378 (Standard for Draft Equipment).

Every Enervex Fan is installed with a speed control switch near the fireplace.
IT WORKS !
---

We recommend only the highest quality, UL Listed chimney fans and draft inducers recognized and approved by the NYC Building Department News Update: Exhausto announces that it is changing its name to ENERVEX effective January 1, 2011. We're an authorized dealer and approved installer of Exhausto-Enervex chimney fans.

Call us today for an estimate: (212) 249-0026